Everyone who knows me well knows that I love the season of fall. Halfway through summer (now, for example) I start itching to buy fall clothes, burn fall scented candles, bake fall foods, pull out my fall boots. Yes, I look a little ridiculous on September 1st when each year it is still a scorching 80 degrees out and I insist on wearing fall attire to celebrate the occasion.
In my own grandmother's words, "Was it really this cold?"
No... It wasn't.
And yes, I regretted it. Sort of.
My point? IT'S SUMMERTIME. The dead of summer.
And in a last ditch effort to convince myself that I should stop swooning over a season that is still two months away, I thought I should share some of my current summertime favorites.
So, for starters...
I've been dancing around all summer in this
It is light weight and perfect. I've been pairing this look with a braided brown belt. And, on a few days I've even managed to get away with a pair of tall brown boots and leggings.
Gotta get my fall fix even in the early summer.
I've absolutely fallen in love with these
Madden Girl "Tambrey" Strappy Demi Wedge Sandal
A friend of mine snagged these beautiful sandals while on a trip to NYC a few months back. You will almost never, ever find me so smitten with a pair of shoes.
I am just not that kind of girl. But, these were a different story.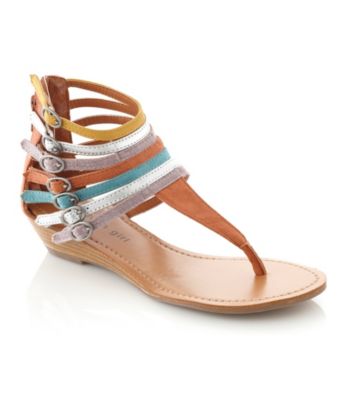 These I dreamed about for a week straight. So, in the midst of one insomniac filled morning I found myself pouring through internet search engines at 3 am trying to find them for myself. Once I did find them I laid awake in bed completely giddy.
I feel just slightly pathetic. But just slightly.
If you are going to jump on them like I did, make sure you order them through Bon Ton, use a coupon code to get an extra 20% off and lastly, make sure you buy through Ebates to get a cash back percentage off of your purchase.
In total I paid $29.00 (Including S&H + Tax) for these shoes which were originally $50.00.
Now, let's talk Yankees.
I grew up surrounded by women who burned Yankee Candles on every side table, end table, counter top, dresser etc.. ect... Naturally, I followed in their footsteps and anxiously wait for new scents to arrive in store each season. And, although he would deny it to his grave,
I've even got my husband hooked.
Here are my Yankee Candle picks for this summer.
Pink Sands
What can I say? I've reverted back to my childhood. Thanks mom.
After some practice, I've finally mastered the look myself.
Braiding is easy, it keeps the bangs out
of my eyes
and the look is just fun!